This is a Sponsored post written by me on behalf of
Scotts Miracle-Gro
. All opinions are 100% mine.
Fall is just around corner and its time to get those fall gardens ready for all of those beautiful autumn colors. Every year, I look forward to the cooler weather and planting fall flowers and this year is no different from any other. I am already beginning to look for ideas to spruce up my flower bed in the front of my home. Miracle-Gro has plenty of ideas about Fall gardening on their website. There are a wide variety of project ideas for making your landscape pop with color for the fall.
I found a project that instructs you on how to add color with pansies, mums, and other fall flowers. The flowers are just the beginning of the process. It is important to have a good base soil so that the flowers prosper through the fall. Feeding them regularly will also help keep them fresh and flowering.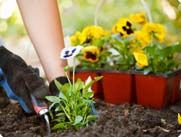 First, pick out the flowers that you would like to put in your fall garden, be sure to get your Miracle-Gro Garden Soil for Flowers, and any other planting utensils that you may need to complete your project. When preparing the soil for the flowers, make sure to mix in plenty of Miracle-Gro Garden Soil for Flowers for optimal results. Once your soil has been prepared, you are ready to plant. Be sure and alternate your flower colors for the most colorful garden.
You can
Find beauty in the Fall
when you use Miracle-Gro products. Miracle-Gro Garden Soil for Flowers and Vegetables is a wonderful product that keeps flowers feed for up to 3 months. It's water absorbent formula keeps plants from drying out and helps improve existing soil to grow strong and healthy roots.
Talking about planting makes me want to get out now and start preparing for those fall plants. There are also lots of great ideas and chat happening on the Miracle-Gro Facebook page so be sure and check it out. Happy Gardening!